CREATEd is engaged in the development of a co-design process that engages a diverse team of researchers, practitioners, designers and other stakeholders in the creation of research-informed equity-centered resources.
What is Co-Design?
Co-design is an innovative approach to creating more usable research products but also for democratizing research use through more equitable and inclusive processes. The CREATEd co-design process leverages the knowledge and experiences of researchers, educators, communication and design experts, and other stakeholders in envisioning and producing resources that both draw on high quality research and are useful and relevant for achieving greater equity in educational policy and practice.
Our team will develop (and continuously improve) a set of co-design tools that will be used in both CREATEd fellowship activities and shared with other members of the education community.
What will the Co-Design Process Look Like?
The CREATEd Co-Design process is an 8-stage, facilitated framework for leveraging diverse teams' collective knowledge. Our framework (pictured below) includes phases that walk teams through: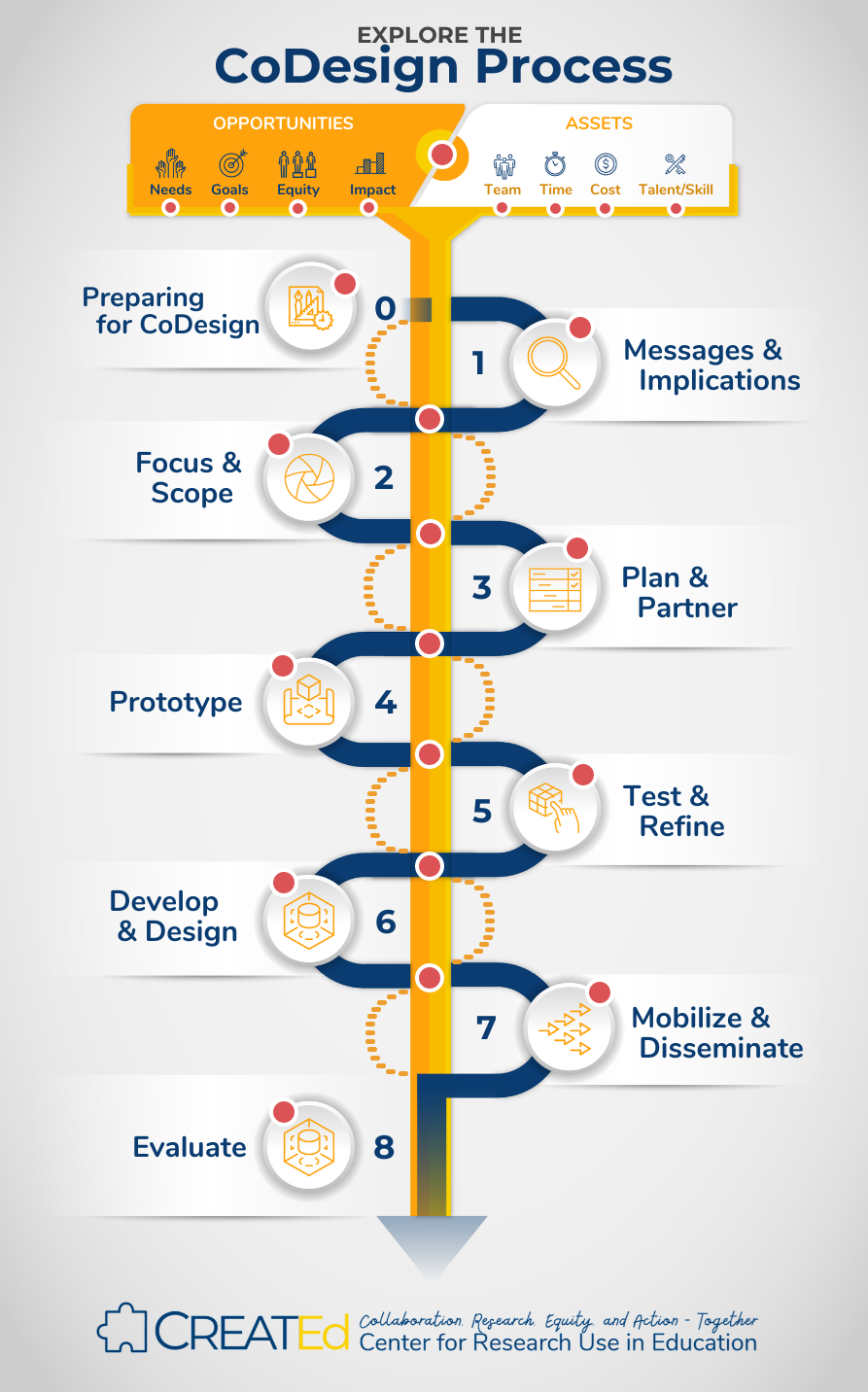 Preparing for co-design: identifying research to be transformed, building a co-design team of researchers, educators, communication and design experts, and other stakeholders, clarifying roles and tasks, developing norms for communication and interaction
Ideating and negotiating: deciding how the research can be made most useful, for which audiences the resource is intended, and what the product should be and look like
Prototyping and improving: implementing design ideas and receiving feedback from the team before finalizing the design
Mobilization: developing and implementing a plan for mobilizing the resources to key audiences
What will CREATEd's Co-Design Process do?
Contribute to stronger relationships between research and practice by creating opportunities that support greater understanding and appreciation across research and practice boundaries and improve capacity for future collaboration.
Demonstrate our commitment to redress systemic inequities and promote a more socially just education system by adopting critical lens on all aspects of the work, including the selection of research, intended users and uses, and product design
Promote a more diverse and inclusive educational community by building teams that are more representative of the communities we serve
What is the outcome of the Co-Design process?
The co-design process leads to the development of new research-informed equity-centered resources that can be mobilized nationally to strengthen educational policy and practice. These resources are/will be freely available to all educators, creating widespread access to high quality materials that support greater equity in our educational system.
Additionally, participants in the process will enhance their capacity to support research-informed practice, to center equity in their work, and to communicate and work across traditional boundaries associated with their role. Ultimately, this increases capacity to work collaboratively across the system to achieve equity goals.
What resources are available to support the use of the Co-Design process?
CREATEd will offer a range of tools to support the implementation of this process across a wide range of settings. These tools will include:
A preparation and implementation guide
A free, web-based toolkit with downloadable resources for each step of the process
A guide for mobilizing the resources produced
Public storage of co-designed products to serve as both models and resources for educators and policymakers
How can I get involved?
Learn more by becoming a Fellow
Beginning in 2023, CREATEd will be seeking:

Now seeking education researchers

 who are engaged in equity-centered education policy or practice research that is ready for translation are welcome to submit a research project for a co-design team to transform into useful, usable, and used by educators.  Click here for more information.
Educators who are interested in being part of a co-design team and representing the needs and desires of educators for materials that are research-informed to support policy and practice

Now seeking graphics and communication designers

 who want to apply their skills by working with researchers and educators to create research-informed materials. Click here for more information.